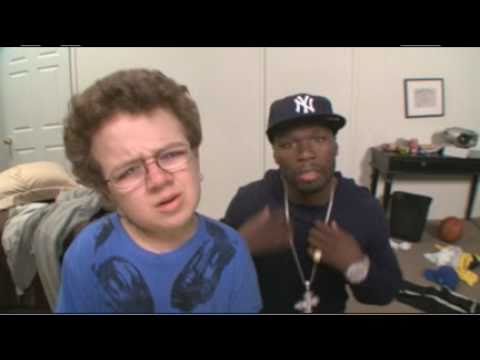 I was channel surfing the other night and happened to park on the late night talk show Chelsea Lately.  She was talking to a teenager who–unbeknownst to me–is a YouTube sensation for the many clips he's posted in which he lip-syncs in front of his computer in his bedroom.  He seemed like a nice kid, a little on the shy side–but well within the bell curve of how many high school sophomores might act if interviewed on national television.
So what a revelation it was when the show aired a brand new YouTube clip of him lip-syncing with rapper 50 Cent (the television show arranged it).  I was taken by the teenager's expressiveness, fluidity, and dramatic ability.  He was completely natural, in the moment, and, for want of a better term, a real artist.  I found him engaging and fun to watch.
I don't know where lip-syncing ranks in the hierarchy of artistic expression (not high, I would guess), but this kid has talent.  And what is talent?  One definition might be the ability to make it impossible for a viewer to ignore your performance; I know I couldn't.  I've noticed that an actor has a distinct advantage if he or she has large expressive eyes and this kid has a pair of peepers that he puts to their full artistic potential.  See if you agree.
And what a pleasant surprise to discover that he's from the Chicago area.  His name is Keenan Cahill and he's a sophomore at York High School in Elmhurst.  One of his clips already has more than 17 million hits.  In just a few days, his new clip with 50 Cent is closing in on 7 million.  Way to go, Keenan.  Keep 'em coming!