On Chicago Tonight at 7:00 pm, three municipal leaders argue that Gov. Pat Quinn's proposal to keep some income tax revenue normally slated for local governments at the state level will force them to cut public safety services.
Mayor Tom Weisner of Aurora, Glenview Village President Kerry Cummings and Flossmoor Mayor Paul Braun join us to explain the plan and what it would do to their communities. They are part of a group of Illinois mayors and community leaders who protested the plan at a Chicago press conference in early May. Here is a video from the press conference: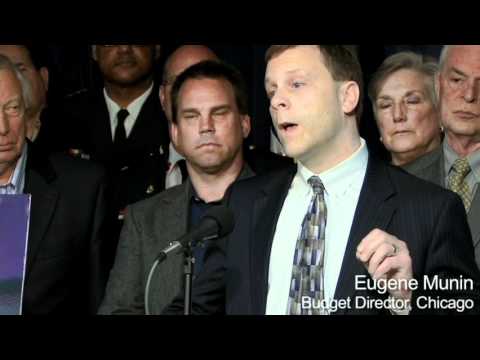 The proposal, which was outlined in a confidential memo from the governor's office last month, talked of keeping approximately $1 billion from local governments' portion of the state income tax revenue.
Aurora stands to lose potentially $4 million in the next fiscal year should the proposal be approved. Glenview could lose up to $3 million.
Local government budgets have benefited from state income tax revenue since 1969, but Illinois' budget deficit has led state leaders to consider eliminating the practice. This coincides with the state's 67 percent increase of the personal income tax.
Those protesting say that they have already had to make a number of sacrifices that the state government has not matched.
People in the governor's office have stressed that the idea is a rough draft that hasn't been approved by state lawmakers. The 2012 budget proposed by Gov. Quinn did not cut income tax revenue for local governments.
What do you think? Should the state continue to give income tax revenue to local governments? Post your comments below or sound off on our discussion board.