Polar bears evolved about 200,000 years ago from brown bear ancestors. They are the world's largest non-aquatic predators.
Adult male polar bears weigh from 775 to 1,200 pounds, and are 6.5 to 12 feet long. Females normally weigh 330 to 650 pounds and measure 6 to 9 feet long. They top the food chain in the Arctic, where they prey primarily on ringed seals.
Biologists estimate there are 20,000 to 25,000 polar bears in five nations: United States (Alaska), Canada, Russia, Norway and Greenland. About 60 percent of those live in Canada.
Click on the photo below to see the full gallery of polar bears.
As of May 2008, the U.S has listed the polar bear as a threatened species under the Endangered Species Act. Canada and Russia list the polar bear as a species of concern.
Experts in polar bear science predict that as the Arctic continues to warm due to climate change, two-thirds of the world's polar bears could disappear by mid-century; unless action is taken to greatly reduce greenhouse gas emissions.
Rapid loss of sea ice is their major threat. Others threats include pollution, poaching and industrial impact.
Polar bears depend on sea ice for hunting and breeding. Summer ice loss in the Arctic now equals an area the size of Washington, Alaska and Texas combined.
Watch the video below to see a 30-year span of the age of sea ice, from 1979 to 2009. As you can see, the bright white ice diminishes more and more as each winter passes.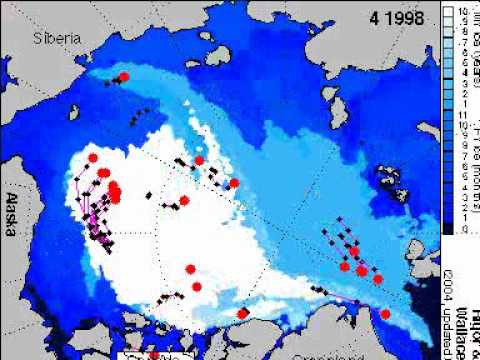 Dr. Stuart D. Strahl, President and CEO of the Chicago Zoological Society and Dr. Steven C. Amstrup, a senior conservationist from Polar Bear International, will be on Chicago Tonight at 7:00 pm to discuss the impact that climate change has on polar bears.
For more information, visit the links below.
– Polar Bears International
– Chicago Zoological Society
– Polar Bear Presentation at Brookfield Zoo