Parkour is a physical discipline where participants use speed and efficiency to move forward freely from point A to B, negotiating obstacles along the way and using only their bodies and the environment.
Jumping, rolling, climbing, swinging and wall scaling are all techniques that are used in Parkour. It is most commonly practiced in urban areas.
A practitioner of Parkour is called a traceur, which is most likely derived from the Parisian slang word "tracer," meaning "to hurry" or "to move quickly."
Parkour wasn't necessarily "invented" since the practice of natural, efficient movement has been used as long as humans existed, in chasing or escaping.
The modern Parkour movement has French origin and was developed by former naval officer Georges Hebert. While traveling through Africa, Hebert was impressed and inspired by the skills and physical development of indigenous tribes. He became a physical education tutor and began to define the principles of his "Methode Naturelle." This method uses only the body and its surroundings for physical development.
David Belle, who is widely regarded as the founder of Parkour, was introduced to "Methode Naturelle" by his father Raymond, who was a military firefighter in the French fire service.
David Belle, along with freerunner Sebastien Foucan, introduced the natural method in urban environments.
Parkour has been seen in major motion pictures, like Casino Royale where Foucan himself participated in the opening chase sequence.
To see Parkour in action, check out the videos below.
Aero Chicago Parkour 2010 Chicago Colossal Jam: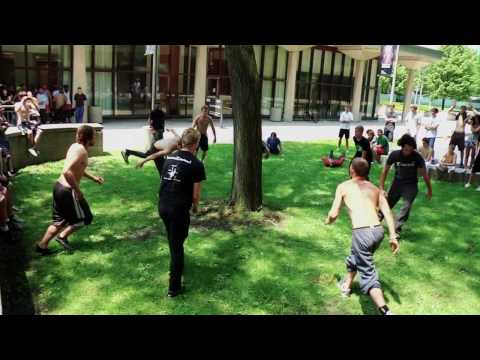 For more information on Chicago Parkour, including upcoming events, click here.